Circle Of conspiracy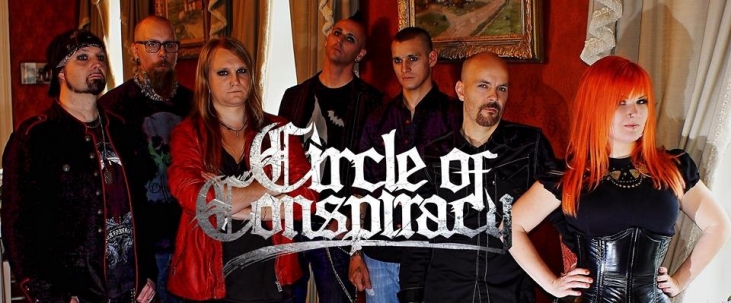 Circle of Conspiracy
Det finns likheter med Lambrettas sound i låtarna. Sången låter som en blandning av Phil Anselmo (Pantera, Down) & Elize Ryd (Amaranthe). Helheten för tankarna till ett melankoliskt Amaranthe. Close-up Magazine 2013
Circle of Conspiracy drogs igång 2011 av basisten Petter Lantz (ex Lambretta) och gitarristen Patrik Sandström. Musiken kan beskrivas som tung metal där melodierna står i centrum och man kan höra likheter med band som Amaranthe, In Flames, Iron Maiden och Nightwish. Naturligtvis finns även likheter med Lambretta, där gitarristen Klas Edmundsson också ingick. Circle of Conspiracy gör en mix av allt detta och får fram ett eget sound, inte minst tack vare att man använder sig av två sångare i Frida Larsson och Robin "Lave" Ohlausson. Deras skilda sångstilar leder till spännande och unika duetter. Under 2012 spelade Circle of Conspiracy in en handfull låtar till en EP, som togs emot väl av såväl publik som recensenter. Detta gäller inte minst titellåten "Wake up Falling". 2013 fortsatte man att skriva och spela in material, samtidigt som man gav konserter på bland annat Metaltown och Knorrfest.
Circle of Conspiracy är:
Frida Larsson, sång
Robin Ohlausson, sång
Patrik Sandström, gitarr
Klas Edmundsson, gitarr
Petter Lantz, bas
David Lantz, synth/keyboards
David Laage, trummor.
Youtube
http://youtu.be/yqUK8LjByjM
http://youtu.be/YargFdcMVMs
Facebook/Hemsida
https://www.facebook.com/CircleOfConspiracy www.circleofconspiracy.com
Spotify
"https://embed.spotify.com/?uri=spotify:track:5Mi1QKyvDPhItMCDjIVCYO"